The Legacy of Let's Dance L.A. Formation Teams
Before LDLA even opened, Enio's early successes came on formation teams as captain of the USC Ballroom Dance Team. In 1977, USC won the Gold Medal at the US Ballroom Championships (USBC). The following year the team went to Blackpool England and came in 2nd in the worlds most prestigious dance event.
In 1989 with Enio as coach, his team took the Gold Medal again at the USBC in Florida. That team was exceptional in that many of the dancers went on to great success in the dance world. Of 18 dancers, 8 eventually went pro, and four (Jerry More, Becky Chang, Catherine Cottis, and Janet Kvasnak) won US Pro Am Championships. Michelle Brakebill (French) won a US Open Swing Championship in the Pro Showcase Division, Natalie Mavor won several US Amateur Championships in Latin, Standard and 10 Dance, the US Rising Star American Rhythm, and the Mayan Pro Salsa competition. Robert Cordoba went on to win 7 US Open Swing Championships, 2 Feather Awards, and was elected to the Swing Dance Hall of Fame. Gary McDonald after winning many US amateur titles with Natalie went on to win the Professional World 10 Dance Championship.  
During the almost 30 year run of Let's Dance L.A., we had dozens of formation teams from kids, to juniors, young adults, semi-pro and adult. All of our teams performed at studio events and events like Springfest and the LA Salsa Congress before huge crowds. Many of these dancers also went on to become champions or professionals. Hector Llamas, Brigitte Ryerson, Vanessa Alderette, Tomas Hernandez, Sander Scholl, Alex Cordoba, Lauren Calderoni, and Michelle Hafle all became professionals. Michelle had a very distinguished competitive career, danced on Dancing with the Stars, and now owns a very successful studio in Dallas, Texas. Brigitte Ryerson took over the Let's Dance Rueda teams and hopefully the legacy continues. Through formation teams we performed in London, Holland, Kona Hawaii, West Palm Beach & Miami Florida, New York City, San Francisco, San Diego, many LA/World Salsa Congresses, the World Formation Championships in Bremerhaven Germany, and the big one- Blackpool England!
Best of all, if you were on any on our Salsa, Casino Rueda, Cha Cha, West Coast Swing or Ballroom Teams made life long friends and a few even found their life partners. So if you have and great stories or pictures,  please send us any pictures so we can add theme here. 
US Formation Team Champions 1988
I always called it my lightning in a bottle team. I think they won in spite of my coaching. Hard working great kids and many became Professional Champions. Winners of the Gold Medal at the 1988 US Championships in Miami at the Fountainbleu Resort
Let's Dance West Coast Swing Team 1994
Quite a weekend for Let's Dance, with Robert Cordoba  and Melanie Roberts winning the US Swing Classic Division Championship. These were adults doing a really challenging routine
Let's Dance L.A. Adult Latin Team 1991
Terryl was coaching the Adult Team and these folks always gave a great performance. In 1991 Bob Medeiros introduced us to what we called Miami Round before we started calling it Casino Rueda. Many had never performed before. we were the first in LA to teach and perform it.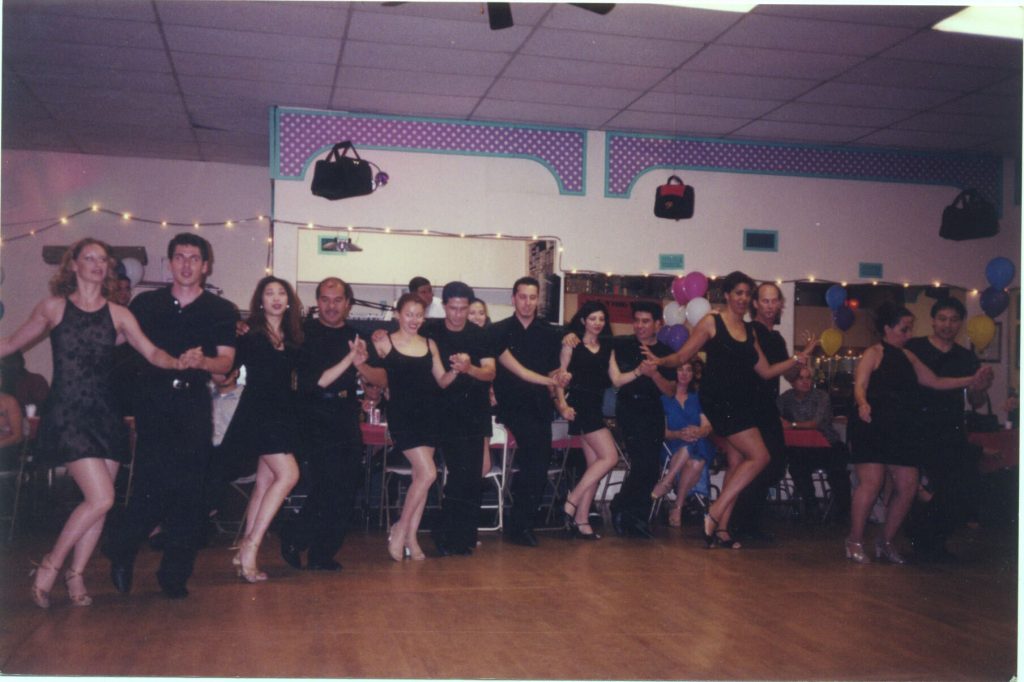 Let's Dance SALSAtional! Team
These were the kids I was most proud of as I started all of them from scratch. Over the years they performed at many events including several LA Congresses. Albert Torres said it was unbelieveable how far they had come
Let's Dance SALSAtional! Team 2003
The Team reached the pinnacle when they performed the infamous Toilet Paper Routine with 10 couples to Guarare at the LA Salsa Congress. It's hard enough to dance this intensity for 6 minutes, try to dance while passing the "flag"…. Enio & Terryl set the mood to open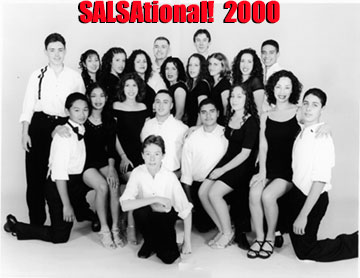 Brigitte's Adult Rueda Team
Alex Ortiz, Bernie Henderson, Mark & Emy Mannarelli, Don & Ann Corley, John Wong, Jennifer Fan, Hilda Lee, Eric Chien, Michael Spann Jr. Choreographed by Enio & Terryl
Performed for our Christmas Show at the Granada 2012. Here a ground level view. 
Our Salsa Team performing at  the Aloha Ball in Kona Hawaii. Mario & Lissette Estala, Jon Hooper, Anayancy Thomas, Glenn Mattern, Monica Moctezuma, Eric Chien, Emmy Hernandez, Karla Llausas, Cynthia Chung, Ching Woodhouse, Enver Apaydin, David Cortez, Val Sprott. 
By the end of  the 1st 2000 decade, Rueda has become very popular and we had as many as three teams doing Casino Rueda
One of the best parts of being on a team was the ability to travel as a group. Some teams were just for showcase performances, but others traveled around the world. My life as a dancer was ignited by the trips I took as captain of the USC team. As a student of the Montez's USC team- we performed at halftime of a USC game in the LA Coliseum, and the 1977 team went to New York, performed at the Waldorf-Astoria hotel and took home the gold. One year later with the chance to see Europe and dance at Blackpool (the mecca of Ballroom  dancing) I postponed my last semester at USC and chose the British Open. After the British I did a 6 week solo backpack trip of Europe. Robert joined those teams when I turned pro and went to the Worlds 2 successive years to Germany!
As a pro coach, I took my first team to a few local comps, then San Diego, then to the National Championship in Miami in 1988 where they received the Gold Medal. A few years later, with a whole new group of teens and young adults, we began with shows at Magic Mountain, the famous Paramount Studios lot, then performing at the LA Salsa Congress where they performed with teams from all over the world. As these kids progressed and trained hard, we prepared them for the World Salsa Championship that was supposed to happen on September 16th in Asheville, North Carolina. The best rehearsed team I ever had and 9/11 cancelled those plans. 
After Dance with Me came out I had more and more invitations to perform. Some of the (now young adults) were so good that I included them in my professional teams. We were hired for a show with Tito Puente Jr., and the later teams so good that I didn't need to perform at the LA Salsa Congress anymore, I just sent the "kids" who rocked the performances. 
Sometimes the performance was as far as the "Thrifty's drug store on Main Street. Other times it was around the world. Our adult team was invited to represent the USA with a group from UCLA and perform in Beijing, China.  The team toured the Great Wall of China afterwards. Just prior to us relocating to Texas, our last team joined us in Kona, Hawaii, for a wonderful event and holiday afterwards.